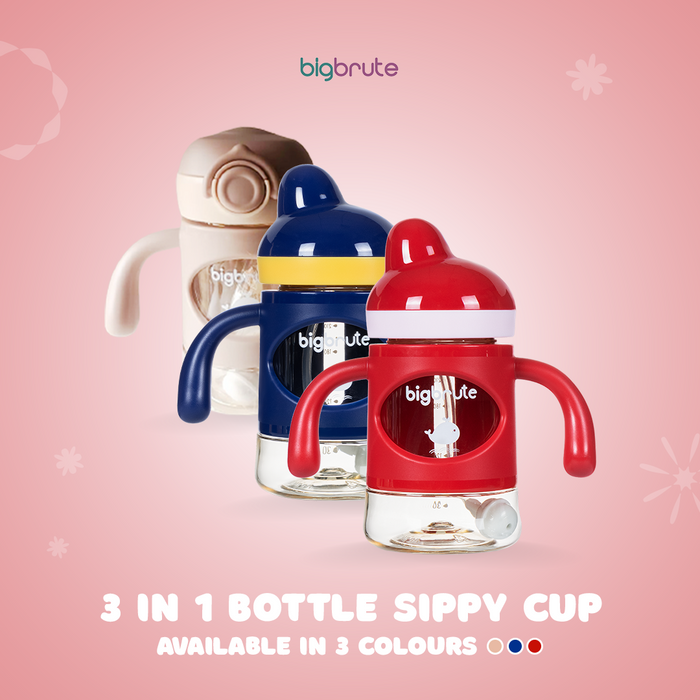 Big Brute 3in1 Bottle Sippy Cup 240ml (Beige/Red/Blue)
Save

0

%
Save

0

%
Original price
₱1,599.00
-
Original price
₱1,599.00
Off-center nipple – you can drink milk without looking it up, it reduce cervical vertebra compression.
Baby bottle converted to water cup.
50mm wide caliber bottle
Selection of High-quality PPSU

Features

Reinforced Ring: More durable for nipple hole.
Unique Stripes Design: Helps liquid steady and constant flow.
Anti-Colic Air Valve: Helps constant liquid flow with less ingestion of air.
There are three ways to use a feeding bottle which can be converted into feeding bottle, duckbill cup and sippy cup which can be used at different ages to accompany baby's growth.

PP Features

Big Brute PP range is made of FDA compliant food-contact grade and NSF certified medical grade material. PP is widely used in the manufacturing of medical appliances due to its superior tough-ness and high temperature resistance. It combines the advantages of both glass and plastic materials; BPA-free and light weight. PPSU is naturally amber-colored contains no artificial pigments. The PP material is bright and transparent, and does not contain artificial pigments.

Clean and Disinfection

Before and after use, make sure to wash the bottle, put it into boiling water for 3 to 5 minutes and avoid any parts touching the edge of pot.
Rinse thoroughly and store in a clean and dry place. Ensure that all the parts of the bottle are completely dry before you fill it with the feed.

Caution

Parental guidance is recommended
Always check the temperature of the milk from your baby's bottle on the inside of your wrist before you feed them to make sure it is not too hot. This is necessary in order to avoid scalding their mouth. It should be warm or cool, not too hot.
Please check at regular intervals, replace it immediately when the product is cracked or damaged.